There is no denying that smart plugs are a great convenience when you desire to run a smart home. These smart plugs work to make your home appliances smart and automate the things, saving you the stress of moving around to operate them.  This will enable you to automate when your thermostats, light, or other home appliances should go off or on.
Unfortunately, the Amazon smart plug does not work with Google home. We tried different ways to integrate it to make it compatible, there have been no positive results so far. Amazon smart plugs are compatible with solely amazon products like fire TV and the echo speakers.  We spoke with Amazon customer care and following is the answer that they are saying it is not compatible with the Google Home.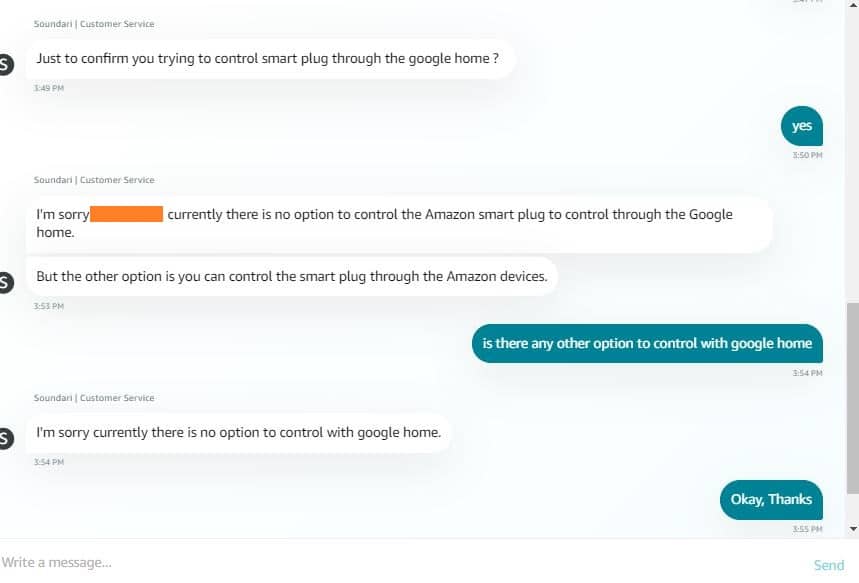 We will update this page once if there is any update as we will keep working on amazon and google products continuously. While buying smart plugs to your home, you should consider multiple things. We have detailed out a list of things you need to consider while buying a smart plug.
Smart Plug Compatibility for Alexa, Siri, and Google Assistant
Ensure the smart plug is compatible with all the voice assistants like Google, Alexa and Siri and if your car supports Android Auto or Apple's Car Play or Alexa Auto Mode. Ensure that your smart plugs are compatible with them too. 
Indoor Smart Plug
Ensure where exactly you are using this smart plug. If you are using a smart plug for indoor consider buying an indoor smart plug, if you are using an outdoor smart plug ensure you are buying a waterproof smart plug, because indoor smart plugs will not work for outdoor smart plugs. 
Outdoor Smart Plug
Smart plugs for outdoor use are very rugged and waterproof. They can withstand wet, cold, and snowy conditions. They are specially made to withstand all these. Because not all smart plugs are waterproof, ensure that you buy one that is made for such occasions, and such are waterproof as they are made with safety at heart.
Smart Plug for Garage Door Opener
Thanks to technology, devices are made daily to increase the ease of living your life. You can synchronize your smart plug to your garage door and use your smartphones to open or close it. This way, you can easily secure and monitor your garage, whether you are home or away.
Smart Plug to Dim Lights
Although smart plugs work to help you turn on or off your lights, some of them do not have the option of dimming your lights. You just need to find a smart plug that not only turns your lights off or on but can equally dim them. When you finally find one, you also need to check the kind of devices and smart controls they require to work with. 
Other things to consider when getting a smart plug that can dim your lights are:
Ensure that it has a built-in dimming capability as most of them claim they can do so.
Check that it has the wattage rating you need so as not to overload it.
Check the smart plug's compatibility with your other devices and voice assistant.
Consider its initial and final cost as some may be affordable but will require a new hub.
Ensure it is the perfect design that can fit into your outlets and that it can monitor your energy consumption.
Smart Plug that you can control from your Car
While you shouldn't do any other thing while driving, the good thing is that your smart plug is there for you. We might sometimes forget to switch off all the lights while going out, while driving you may recognize to turn off the lights, with just a voice command from your car without touching the phone, you can say, Hey Google, turn off all the lights in home. Boom, it's done!
Interestingly, you can set your smart plug to turn off all the lights in your home at particular times while you are away. You do not have to ask your smart plug to turn off your lights as that can be scheduled.
Also, you can group and automate your smart plugs so that the devices connected to them can go on or off when you want them to. This often gives the impression that you are home while you may not necessarily be.
Timers and Automate your Smart Plug
Check your Smart Plug is compatible to automate and set the timers, for example when you wake up in the morning and want to turn on the coffee maker while you are getting ready for your work, you can schedule the same using your smart plug. Most smart plugs will have this feature as these smart plugs are controlled by smart assistants like alexa, google home and siri and you can schedule the same for every day.
Check the features of the Smart plug
Different smart plugs possess various features and capabilities, which you may want to take note of to buy the right ones. For instance, you may want to buy a smart plug that has energy monitoring features. This is displayed as the amount of electricity consumed by your appliances in a given time frame. It will help you regulate your energy consumption.
Also, consider buying a smart plug that allows you to schedule the operation of your appliances. You can slate such a smart plug to suit your daily routines. 
Similarly, check for smart plugs with "away modes" as they allow you to set the time and dates you want certain devices in your home to operate. These will give the impression that you are home whereas you are enjoying a vacation in a faraway land.
Consider the Design of the smart plug
The shape and size of a smart plug matter as it determines whether it will fill into your outlet or not. Smart plugs can be circular or rectangular.
Consider smart plugs that are small and can fit into your outlet without blocking the others. Even though a smart plug is small, you still need to consider its shape because the wrong design will not fit into your outlet.
Consider the Technology it uses.
Usually, smart plugs use three technologies, which are Wi-Fi, Z-wave, and Zigbee. Wi-Fi is usually very affordable and easy to use. It also does not require an additional hub, which can save you extra cost. However, Wi-Fi technology is used mostly by smart plugs for indoor use.
Choosing the right smart plugs to buy makes a difference when trying to make your home smart. Knowing the kind of appliances you have, the outlets in your home, and what you desire of the smart plug is also important.
Benefits of using an Amazon smart plug
Amazingly, amazon smart plugs can carry out your bidding at the designated time you need them to. Any device plugged into it can be automatically voice-controlled through Alexa. They work remotely to control your home lighting when you are not home. Other benefits include
Cost efficiency
This affordable device helps save a lot of energy since you can use it to put off energy-consuming appliances anytime.
Convenience.
What can be more convenient than having absolute control of your home whether you are there or not? That is what you get with a smart plug. 
Regulating Energy usage
Smart plugs are a good way to regulate your energy usage since every device can be programmed to go on or off.
Phantom power draw elimination 
Your home appliances draw electric energy when not in use. Smart plugs can help eliminate phantom power draw by cutting the electricity supply to these devices when not in use.
Take Away
Smart plugs are a convenience to leverage. They offer you a great deal of hands-free control of the appliances or devices in your home, whether they are smart or not. They are an indispensable tool in the security of your home, especially when you are away.
Needless to say, a lot of factors need to be considered when buying your smart devices and smart plugs. The most important of these factors being compatibility. Because a lot of people rarely stick to one brand, you may want to get smart plugs that are compatible with most or all voice assistants like Siri, Alexa, and Google assistant.
We reviewed and tested around 20 smart plugs and we feel these are best and recommend by us. Click Here it see our recommended smart plugs.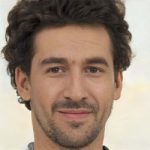 Sam has been a Smart Things expert for years and the author of DIY SmartThings. Recently he's really more into Nest smart devices and has a lot of experience with all sorts of projects from converting a regular Home to completely a smart home with the background degree in Electronics.