It is quite tiresome and stressful operating multiple systems with separate mouse and keyboards. Mouse without borders, a software product that's compatible with several OS, makes it seemless to copy texts or drag and drop files across up to four computers using a single mouse and keyboard. Let's consider other alternatives and the features they've got.
Alternatives to Mouse Without Borders
Every product has got its own limitations and Mouse without borders is no exception. So alternatives are always welcomed in such cases to meet our needs. Below, you'll learn about five awesome alternatives and the features they've got. They are:
With the aid of a single keyboard and mouse attached to a single computer, this software product allows you to control multiple windows systems. It is compatible with Windows 7, Windows 8/8.1 and Windows 10. You can easily switch controls between systems by either moving the cursor to the screen's edge or simply using hotkey. On the monitor grid, you can align the position of your monitors with how they appear on the grid by easily dragging them to their correct spot. 
With its shared clipboard support, you can copy texts or drag and drop files across the systems. You can set it up in quick time, as the installation and usage guide are pretty simple to follow. One unique feature it offers is that your cursor will remain visible and correct after even disconnecting the mouse on a Windows 10 system. The Input Director does not need you to first login to it before you can operate your computer.
Here are some additional features:
On all your monitors, you can synchronize a single screensaver.
You can lock all your computers simultaneously. Also, you can synchronize shutdown on all your systems and even configure them individually as to when they'll go on hibernate, standby and shutdown. Over a network, you can also wake the systems.
You could decide to lock down the Input Director configuration, granting permission to only the System Administrators to make changes.
To enable the eyes to easily locate the mouse after transitioning between systems, ripples will surround the cursor for a few seconds.
With a Synergy product, you can share your mouse and keyboard between several systems. This software product is compatible with Windows, Linux and Mac computers. Basically, it offers a range of three packages you can opt for, namely, the Basic edition, Pro edition and a Business edition. Depending on your choice, there are few varying features, with most features being supported by all three packages. 
Notable features include:
Synergy provides support for clipboard sharing, making it possible to copy texts or drag and drop files and images across all of your computers. 
Unlike a mouse without borders that support the connection of up to four systems, Synergy has no limit to the number of devices you wish to configure. 
Background services are compatible on only Windows systems, making it possible to simply set and forget. 
With its Hotkeys support function, you can customize keys to execute specific actions. To aid easier key combos, you can swap the Command and Windows modifier keys. Apart from the Basic edition package, the other packages can encrypt all sent data between the computers. 
Its TLS/SSL network encryption are meant to secure sensitive information. 
For only the Business edition package, a first response Service Level Agreement (SLA) is offered on support tickets. So with Synergy, files, images and data are sent securely and fast over your local network connection.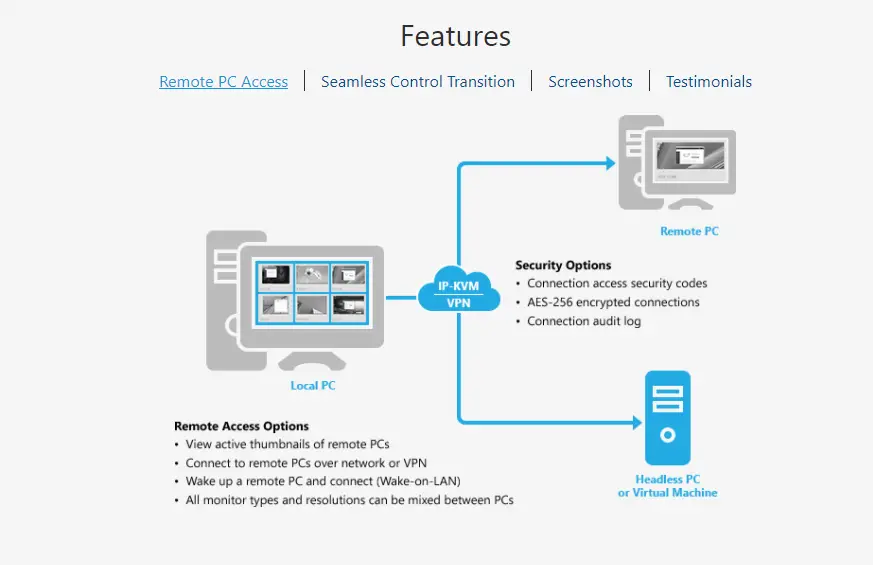 As a fitting alternative, Multiplicity also enables the use of a single keyboard and mouse connected to a host computer to access two or more client computers. It is available in two versions, the standard Multiplicity and Multiplicity Pro. With a standard Multiplicity version, you can copy and paste texts and images between systems. 
Other notable features include:
For Pro version, it has the ability to control up to nine client computers and supports the copying of files, folders and other types of data between computers. The connection of the host computer to other client computers is established over a network connection like TCP/IP port 30564. 
The cursor of your mouse transitions seamlessly between screens either through the use of keyboard shortcuts or directing the cursor over to the appropriate side of the screen. 
The platforms it supports include Windows 7, 8, 10 and Vista; Windows Server 2012 / 2012 R2, 2008 / 2008 R2, 2003 / 2003 R2; and Windows XP (32-bit). 
One downside of this software product is that it does not support the combination of computers having different operating systems, such as Linux and macOS.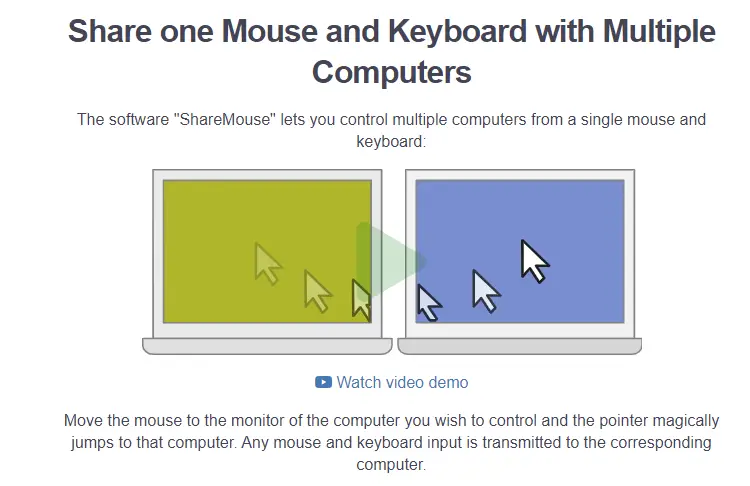 The software ShareMouse enables the control of multiple systems using a single keyboard and mouse. As the mouse transits from one screen to the other, so the keyboard inputs are transmitted on the corresponding system. To guarantee security, you can AES encrypt and password-protect all traffic. Just like network KVM ( Kernel-based Virtual Machine), clicks and mouse movements are transmitted through the Local LAN. 
Other notable features include:
ShareMouse supports clipboard sharing, making it possible to copy text and files of any format from one system to the other. 
One interesting feature it has got is that it enables you to control a Mac from your PC and vice versa. 
With it, you can synchronize several actions and events over all your computers. For example, you can simultaneously lock/unlock your multiple systems. You can also synchronize screensavers across all of them. 
The setup is pretty easy as it requires no additional hardware component. 
Its connection capacity can pair two devices over a network work connection, so you can control both of them using a single mouse and keyboard. Amazingly, the ShareMouse freeware edition is available to personal users for free. So with it, there's no need to get file shares setup or you configuring cross-platform network protocols. Transferring files have been made easy to the point that you simply drag and drop them across the computers. 

This application is very easy-to-use and has lots of amazing features that enhances your mouse, keyboards and touchpads. Your devices are easy to find, switch and set up because they display an onscreen image. 
Interesting features of note are:
As an alternative to Mouse without borders, it provides support for the connection of up to three computers, which are controlled using a single mouse. With it, you can effortlessly transfer files, images and texts between connected systems. 
The cursor can transit through the screens seamlessly by simply moving the cursors to the edge of your screen. 
A cool feature allows you to customize the buttons on your mouse to suit your taste. You can set buttons to execute specific tasks on your favorite application, hereby going beyond the typical global settings. 
The Duolink feature even enables you to customize your mouse and keyboard to become super versatile. Simply do so by holding the Fn key on your keyboard and your favorite button on the mouse. 
With an optimized gesture feature for Windows and Mac OS, you can activate actions such as Windows Task View or Mission Control on Mac by holding the gesture button and moving it toward your desired direction. 
At the right moment, you'll be notified on device specific information like key backlighting level, battery level and so on. 
It also has an account backup option that ensures your device settings are securely backed up over the cloud. This is quite advantageous because you can easily make use of these settings whenever you need them, saving you the stress of always customizing the software product. 
The Logitech Options application runs on Windows 7, Windows 8, Windows 10, and macOS 10.11 and above. 
Some language options are supported only on the Windows operating system such as, Danish, Russian, Greek, Finnish and so on. So confirm if the language you wish to use is supported. For this product, also note that it works only with some Logitech mouses. So still confirm if your already existing mouse is compatible or a new one is necessary.
Take Away From This Article
As a programmer, designer, gamer or whatever profession that requires you making use of more than one system, software applications like these ones discussed above can do a whole world of good. Being able to operate multiple systems with just a single mouse and keyboard, will ease your stress and enhance your efficiency.  All the alternatives above are pretty simple to setup and they require no additional hardware component. 
They offer a lot of interesting features. While some of them support only a single operating system, others are able to run on several operating systems. For some, they've got multiple packages to suit your need, of which highlights of these packages was also discussed. Most of these alternative products are compatible with a wide range of mouse and keyboard brands and therefore, won't require you to purchase new ones. For any of these alternatives to the Mouse without borders software product, be rest assured that you'll never go wrong when you opt for them.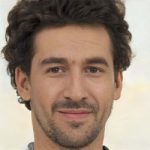 Sam has been a Smart Things expert for years and the author of DIY SmartThings. Recently he's really more into Nest smart devices and has a lot of experience with all sorts of projects from converting a regular Home to completely a smart home with the background degree in Electronics.